About Us
Scott Land Yard began in 1985 as a Landscape/Maintenance company.
Since that time the company has established itself as a multi-faceted company offering a wide range of services.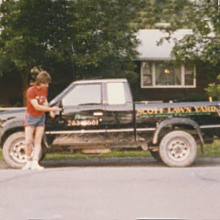 Scott Lawn Yard was founded in 1984 by Christine and Scott Miller, lifelong residents of Niagara County, with a pickup truck and a pair of push lawn mowers. In 1990, they opened an office in Sanborn, NY when they shifted the majority of their sales from residential projects to commercial projects, including site construction which started becoming a larger portion of their business.
In 1996, Scott Lawn Yard Inc. was incorporated in the State of New York, and began shifting focus towards larger scale commercial and public work. In 1997, Scott Lawn Yard won its first public works job, a rehabilitation project at the Niagara Falls Water Treatment Plant, and in 1999, Scott Lawn Yard took on its first FEMA project, clearing the city streets of Buffalo after a snow storm.
2001 marked two milestones for Scott Lawn Yard: their first roadwork project, a $978,000 project for NYS Parks converting a section of the Robert Moses Parkway to pedestrian pathways; and their first $1M + project, a region-wide landscaping project for NYSDOT. In 2018, to accommodate their growing business, Scott Lawn Yard moved their headquarters to a 22,000 SF facility in the Town of Niagara.
Shortly after their move, Scott Lawn Yard expanded its services into the asphalt and concrete markets, allowing the company to become a complete self-performing site construction company.
Over the last 38 years, Scott Lawn Yard has grown to a full scale site work company approaching $40 million in annual sales, over 125 employees during the peak season and bonding capabilities up to $100 million. Christine Miller is President and majority owner of the company and is recognized by the state of NY as a certified WBE. With over a quarter of a billion dollars of completed projects, Scott Lawn Yard has established itself in the Western NY market as one of the premier site work companies.
Today, Christine and Scott Miller currently reside in Lewiston and have 4 children.
Army Corp of Engineers
Accadia Site Contracting
ADF Construction
Alfred State College
Allstate General Contracting
Anastasi Trucking
Anna Arundel County
Battery Park City Authority
Benderson Development
BRD Construction
Buffalo & Fort Erie Bridge Authority
Buffalo City School District
Buffalo Construction Consultants
Buffalo Municipal Housing Authority
Buffalo Niagara Water Keeper
Buffalo Olmstead Parks
Buffalo Psychiatric Center
BWI Airport
Chautauqua County
Christa Construction
City of Buffalo
City of Lockport
City of Niagara Falls
City of North Tonawanda
City of Rochester
City of Tonawanda
Cleveland Hill UFSD
Concept Construction
CSS Construction Services
DASNY
Department of Environmental Conservation
DiPizio Construction
DMyles Inc
Empire State Data Hub
Erie Canal Harbor Development Corporation
Erie County
Erie County Community College
Erie County Fire Training Facility
Erie County Water Authority
Evans Brant CSD
Ferguson Electric
Frey Electric
GPS Construction
Hohl Industrial
Holmes and Murphy
Huber Construction
C. Construction
IPL Electric
Keeler Construction
LeChase Construction
Lewiston Porter CSD
Lockport Housing Authority
LP Ciminelli Construction Co
Manning, Squires and Hennig
Maryland State Highway Administration
NFR
Niagara Falls Bridge Commission
Niagara Falls Water Board
Niagara Wheatfield CSD
NYS Department of Transportation
NYS Office of General Services
NYS Office of Parks, Recreation and Historic Preservation
NYS Power Authority
NYS SUCF
NYS Thruway Authority
O'Connell Electric
Oakgrove Construction
Oswego County Airport
The Pike Company
Powerline Construction
Prince George's County
R&P Oak Hill Development
W. Construction
Roswell Park Cancer Institute
Saratoga Spa State Park
Savarino Construction
Scrufari Construction
Seneca Nation Of Indians
Sevenson Environmental
Sicoli and Massaro
Summit Construction
SUNY Brockport
SUNY Buffalo State
SUNY Cortland
Tompkins County
Town of Amherst
Town of Lewiston
Town of Niagara
Town of Orchard Park
Town of Tonawanda
Transit Construction
Turner Construction
UCC Constructors
Uniland Development
University of Buffalo
USA Urban Development
Village of Celoron
Village of Fredonia
Village of Hamburg
Village of Mayville
Village of Victor
Village of Wilson
© 2022 Scott Lawn Yard.
All Rights Reserved.
3305 Haseley Dr.
Niagara Falls, NY 14304
Phone: (716) 731-6415
Fax: (716) 731-6485 "An Official Commercial Sitework Partner of the Buffalo Bills"